---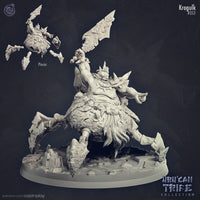 Krogulk
After living his whole life in fear, and after surviving a raid on the goblin's den by a group of adventurers, something awakened inside of one of the lone survivors of the goblin tribe, and this was the desire to survive and to never live in fear again.
With this, our little goblin, now known as Krogulk took the fear, the anger, and the resentment so ingrained in his mind and started turning them into a source of power. He also started trying to imitate the contraptions other races built, thus developing his own Heavy Metal gobmachines.
At this point, Krogulk decided to build a clan, making other goblins embrace their fears and eventually looking to build the most powerful army to make all the other races pay for making them live in fear and suffering.
Eventually, our little goblin managed to obtain enough power to deserve the title of "Goblin King".
-
patreon.com/castnplay
*Base is not included